PHOTOBIO•T represents the apex of LED Top lights. PHOTOBIO•T can be applied indoors or greenhouse as a direct 600W HID alternative or retrofit. Patented PHOTO•PRO Photon Regulating Optics ensure the most efficient delivery of plant biologically active radiation (PBAR) to the plant canopy. PHOTO•LOC Light Output Control allows precise control over the photons that are delivered to the plant canopy when used in conjunction with a 0–10V controller. In greenhouse facilities, PHOTOBIO delivers consistent optimal PPFD levels throughout the day while saving energy. Just pair PHOTO•LOC with an environmental control system that utilizes a quantum sensor to measure light entering the greenhouse and automatically regulate light output in real time.
THE SPECIFIC POWER CABLE IS SOLD SEPARATELY BASED UPON YOUR REQUIREMENTS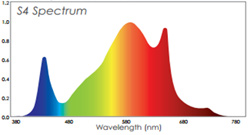 S4 Spectrum: Provides highly efficient full spectrum with a healthy red-to-blue ratio to drive photosynthesis. Light energy between 500–599nm, previously thought wasted, penetrates deeper into the plant canopy promoting photomorphogenic responses. High color rendering "white" light aids to rapidly identify potential threats to your crop and provides superior working conditions and safety for personnel. Ideal for both flowering and vegetative production.
FEATURES:
730-750 umol/s Photon Flux @ 277V
2.5 µmol/J Efficacy
Rated wattage: 300W
Average rated life hours: 50000
5 Year Warranty
High capacity production capabilities backed by technology from one of the world's largest LED chip manufacturers
Slim linear design minimizes sunlight interference in greenhouses and can be tucked under existing support structure
Patented heatsink design maintains ideal operational temperatures of LED diodes ensuring consistent light output and yields
Patented PHOTO•PRO Photon Regulating Optics create unrivaled uniform light delivery to your plant canopy
100-480V Driver Options
German Made Wieland IP Rated Input Power Connection
PHOTO•LOC Light Output Control access any 0-10V signal to control photoperiod and dimming
Antireflective coating on the inside of lens ensures maximum photon transmission
Frosted lens to properly blend spectrum
True IP65 protection against water and dust
Power cable sold separately based upon your specific requirements

Power Cord options listed below:
CHW863000W - 8' Wieland F 16AWG WT w/leads, Harness
CHW883021W - 8' Wieland F 18AWG WT locking 277V, L7-20P, Harness
CHW843010W - 8' Wieland F 14AWG WT 110-120V Plug, 5-15P, Harness
CHW863015W - 8' Wieland F 16AWG WT 208-240V Plug, 6-15P, Harness
CANADA WIDE
We offer free shipping for orders over $149 CAD before tax.
The Better Than Nature online store ships all over Canada.
All orders are processed within 1 business day.
Your order will be marked as fulfilled from the moment it's been boxed up in the warehouse awaiting for the courier to pick it up. Once your order has been fulfilled, you will receive an email with your tracking number. Your tracking details will appear once the courier has processed the package.
We deliver packages through the following couriers: Canada Post
We currently only ship to PO Boxes across Canada via Canada Post.
LOCAL SHIPPING (KELOWNA)
We offer local delivery across Kelowna, Lake Country and West Kelowna, British Columbia via our company truck.
It's an additional $20 delivery charge (excluding orders over $149 CAD), and all orders are processed within 1 business day and delivered Monday-Friday (excluding public holidays).
Your order will be marked as fulfilled from the moment it's been boxed up in the warehouse awaiting to be delivered.
We do not deliver to PO Boxes via local delivery.
DISCREET SHIPPING
If you would like discreet shipping, please request it in the notes section on the cart page.
SHIPPING DELIVERY ESTIMATES
⠀⠀
Alberta-British Columbia: 2-3 Business Days

Saskatchewan-Manitoba: 3-5 Business Days

Ontario, Quebec, Newfoundland & Labrador, & PEI : 5-7 Business Days

SHIPPING DISCLAIMER Occasionally, our online inventory is inaccurate. In the case we cannot fulfill your order due to an item being out of stock, we will contact you within 24 hours whether to cancel the order or wait for the item to be back in stock. Most items not instock require 5-7 business days to fulfill. We reserve the right to cancel & refund any order where we cannot economically ship to. If this happens you will be refunded in full and notified of the issue.



Orders are processed and delivered Monday-Friday (excluding public holidays)
QUESTIONS & ANSWERS
Looking For Wholesale Pricing?
We offer bulk pricing to all Licensed Producers and ACMPR Growers.